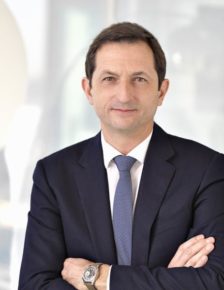 Bio
Bertrand Camus is Chief Executive Officer of SUEZ.
He joined SUEZ environnement in 1994 as project manager for the commercial development of major international public-private partnerships (PPPs), notably in Budapest, Hungary and Casablanca, Morocco - the largest water and electricity concession in the world.
He then spent several years developing the business in South-East Asia and then became Executive Vice President of Aguas Argentinas, SUEZ's local brand in Argentina, between 2000 and 2005.
He was appointed Chief Executive Officer of SUEZ in North America, in charge of all SUEZ activities in the United States, Canada and Mexico between 2008 and 2015.
He returns to France as Chief Executive Officer of Water France (formerly Lyonnaise des Eaux) and Executive Vice President of the Water Europe Division of the SUEZ Group from September 2015 to March 2018. At that time, he was also Chairman of FP2E ((Fédération des entreprises de l'eau).
Before being appointed to his current position, Bertrand Camus held the position of Executive Vice-President of the SUEZ Group in charge of the Africa, Middle East, India, Asia and Pacific zones from March 2018 to May 2019.
He is appointed Chief Executive Officer of SUEZ on May 14, 2019.
Bertrand Camus holds a degree in civil engineering from the Ecole des Ponts et Chaussées.
---
---