Knowledge Center
Reconstruire. Face à la crise, regards croisés
By its unprecedented scale and form, the COVID-19 crisis has had a profound and lasting impact on our society. Convinced that businesses must be key players in the economic and societal reconstruction of the country, PwC is launching the Rebuilding program, a cycle of joint reflection and foresight designed to understand the changes at work and collectively invent new solutions to deal with the crisis and build for the future.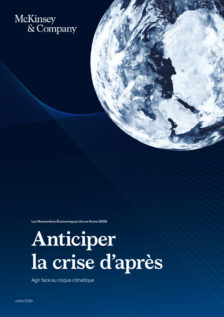 Anticiper la crise d'après
Insufficiently prepared for climate risk, our societies could be exposed to a potential systemic crisis, which will affect every sector of activity and every region of the world. Faced with this, an urgent and widespread mobilisation is necessary, in order to analyse this risk and then to take a number of actions to adapt to it.