Results
The Cercle des économistes and the Jury of La Parole aux 18-28 send their warm and hearty congratulations to the winners.
The Jury of La Parole aux 18-28, its President Étienne Klein (Physicist, Director of Research at the CEA, Doctor of Philosophy of Science, President of the Jury), Agnès Audier (Senior Advisor, BCG), Françoise Benhamou (Cercle des économistes), Jacques Biot (Former President of the École polytechnique), Patrice Geoffron (Cercle des économistes), Sylvie Kauffmann (Editorial Director, Le Monde), Anne-Laure Jumet (Head of Economic and Social Department, France Culture), Eric Molinié (General Secretary, Dalkia), Bruno Raffaelli (of the Comédie-Française).
The Jury, chaired by Etienne Klein, Director of Research at the CEA, selected four winners ex-aequo following a lively deliberation in view of the high quality of the contributions received.
You will find their contributions in the collection published by Éditions Nathan and put online by the end of June.
Four winners for the Prize La Parole aux 18-28!
Raphaël GRANDEAU
26 years old, Air Liquide, "Trip with three stopovers"
To escape the surrounding tumult, I propose you to embark on an initiatory journey in three parts: agriculture, energy, mobility.
Sophia GUERMI
23 years old, Veolia / IRIS SUP' – Grenoble École de Management, "Chapter 5 – The episode of world disorder"
It is a prospective work, in the form of writing a chapter of History in a book of the 2061/2062 school year curriculum. Profoundly utopian, it intends to draw a possible scenario and its vectors of change.
William HONVO
25 years old, Banque de France, " For a brighter future ", Special and fictitious edition of the Gazette Provençale on the theme of action in the face of world disorders.
It is an understatement to say that today's world is out of control: the bursting of the internet bubble, the subprime crisis, the continuous degradation of the environment, generalized mistrust of the media, the rise of populism… The recent coronavirus crisis, an unprecedented intertwining of a health, economic and stock market crisis, which is hitting a world that was just beginning to digest the 2008 crisis, adds to this background. The conclusion is irrefutable: the clock is broken and must be fixed.
This is what this special edition of the economic pages of the Gazette Provençale proposes to do, by identifying a few major areas for reflection on various themes: taxation, ecology, the health crisis, coordination of economic policies… At a time of mistrust and fake news, the role of the newspaper is destined to become even more central. It must establish itself as a reliable, synthetic medium of information, able to take a step back enough to see the overall shape that the turmoil of the short term draws.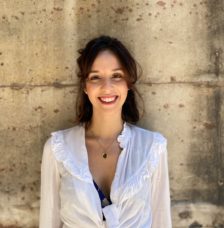 Sakina MENAA
25 years old, University of Paris I – Panthéon Sorbonne, " The Testimony of Atlantis: Between Dystopia and Prophecy."
It is a message addressed to humanity by an artificial intelligence, commissioned in 2025 to act in the face of the world's disruptions and which was forced to leave the Earth after failing in its mission.
Special Mention of the Jury
Nathan KLOTZ
19 years old, student in Pharmacy, University of Strasbourg, "Oath of a Hypochondriac".
"Dr. Purgon is a disillusioned provincial doctor, worn down by the pressure, fatigue and pathetic of his daily life. The surreal visit of one last patient to the emergency room of the Saint-Tuberculeux hospital will reveal this. France complains of "deregulation". A mutation takes place, he abandons Hypocrates and his oath to become a true anti-hero of medicine, rewriting the codes of consultation. Thinking less of the interlocutor than of his own reasoning, he launches into a theatrical logorrhoea in 6 scenes. 6 scenes of neurosis and narcissism, in which the main axes of our society are laid bare under his changed eye, the eye of a hypochondriac."
The 100 young people selected to be invited to the REAix 2020
ABDALLAH Waël, Sciences Po / Amarante International
ABDELHAMID Aymen, Université Paul Valéry – Montpellier
ALBERT Quentin, Amundi
ALEXANDRE Louis, ESSEC Business School
ALGRAIN Stacy, Sciences Po
ANDREESCU Marie-Renée, École Normale Supérieure
ANÉ Cédric, Groupe BPCE
ARNOUT Florian, ESSEC Business School
AUBERT Capucine, Sciences Po Aix
BARRÉ Damien, Banque de France
BARRET Albéric, Université de Strasbourg
BECHCHANI Khalil, Université Clermont Auvergne
BEIROUK Rabab, Sciences Po
BELLE-LARANT François, CentraleSupélec
BELLION Nicolas, Banque de France
BONICEL Bastien, Deloitte
BORDELET Cassandra, Université de Strasbourg
BROCKMEIER Clara, Wavestone
CARON Matthieu, Moody's
CARPENTIER Sarah, Wavestone
CASES Inès, Année consacrée à l'écriture d'un ouvrage
CAUCHETEUX Juliette, École des Ponts ParisTech
CHAPUIS Chloé, ESSEC Business School
CHERITEL Côme, Paris School of Economics / École des Ponts et Chaussées
CHESNEL Guillaume, Banque de France
CLEIREC Tanguy, EM Lyon / Wavestone
COLOMBARI Anne, Banque de France
CONSEIL Guila, Collège d'Europe
DAMOUH Salma, SKEMA / Veolia
DAVID Anthonin, Deloitte
De CAGNY Édouard, ESSEC Business School
De SIMONE Maxime, Sparkmate
DEJONKHEERE Maxence, Sciences Po / La Française des Jeux
DUBOST Tristan, IUT de Caen
DURAND Marie, Orthophoniste
DUSSUTOUR Chloé, Wavestone
EASWARAKHANTHAN Thayaliny, Enedis
FAURE Emmanuelle, Université de Nanterre
FOURCADE Agathe, ESJ Lille
GILLES Imane, Cambridge University
GINESTET Clotilde, Université Paris Dauphine
GIUSTINIANI Anaïs, Wavestone
GUÉRIN Hugo, Gazocean
GUERMI Sophia, Grenoble École de Management – IRIS SUP' / Veolia
HONVO William, Banque de France
ISCEN Baran, Sciences Po
JAILLET Juliette, EFAP Paris
JANSSENS Mélusine, ESCP Europe / EY
JANVIER Orlane, Sciences Po Aix
JÉGARD Théophile, École Nationale des Ponts et Chaussées / Sciences Po
JEHANNO Mathilde, ESSEC
JOLISSAINT Robin, Université de Fribourg
JOUANNEAU Mathieu, Amundi
KACEM Olfa, 1618 Consulting
KBAIER Florence, Sciences Po Aix
KLOTZ Nathan, Université de médecine de Strasbourg
LACOURT Sacha, Université Clermont Auvergne
LE BARS Bastien, ESSEC Business School
LE GROS Clara, Natixis
LENOIR Olivier, École Normale Supérieure
LÉVY Stephen, ESSEC
LHOMME Khai Linh, Deloitte
MADDALON Noah, IUT Paris Descartes / Corsevit
MAGNE Elise, Sciences Po Toulouse / Toulouse Business School
MAGRÉ Jean-Guillaume, Banque de France
MAILLY Vincent, Groupe ADP
MARTIN de FAURE Hugo, École hôtelière de Lausanne
MASCARELL Léonore, ESSEC / 35° Nord
MBONYINSHUTI Kevina, INALCO / Business France
MEGHARA Lyes, Natixis
MENAA Sakina, Université Paris 1 – Panthéon Sorbonne / JDS Avocats
MOISSENET Agathe, Sciences Po
MONJON Emma, Sciences Po Aix
MORET Adeline, Chaire TDTE
NAOUR Lise, Natixis
NEVEUX Quentin, Fitch Ratings
NOGBOU Yaba, Wavestone
NOGUES Mathieu, Chaire TDTE
ORS Arnaud, Sciences Po / Veolia
OUANGRAOUA Chris, Université Nice Côte d'Azur
OUATTOU Fatima, SNC CONCILIAN (groupe Société Générale)
OULERICH Hugo, Université Paris Dauphine
PERRIN Caroline, Université Lyon 2
PEYROUSE Madeline, Sciences Po Aix
RAFFY Graziella, Sciences Po
RAOUI Zineb, INSA Rouen Normandie / Total Raffinage SA
RAZAFINDRAZAKA Andry, Université Paris Nanterre / Chaire TDTE
RÉBÉNA Bastien, Sciences Po
RICHAUD Magali, ESSEC Business School / HSBC
RIZZA Guillaume, SNCF
ROBERT-FAILLE Timotée, ESSEC Business School
ROCHEGÜE Samuel, Polytech Nice Sophia / Veolia
SIBONY Laura, École de la Parole
SPITZ Sarah, ANEO
STROEYMEYT Louis, Sciences Po / Institut de l'économie pour le climat
SYLLA Sékou Oumar, Université de Lille
THUAL Julien, Université Paris Dauphine
VALLA Hugo, Fédération Bancaire Française
VIRY Paco, École Polytechnique
WEGNER Oriane, Banque de France
YEFESS Florian, Classe préparatoire aux Grandes Écoles
YOUSSOUF Hamym, Université de Strasbourg
LE CLUB DES AMBASSADEURS Invités aux REAix 2020
Chaque année, un certain nombre d'anciens participants candidatent à nouveau au dispositif LP 18-28, succès oblige ! Pour ne pas limiter les places des nouveaux candidats sélectionnés au nombre de 100, le Cercle des économistes a créé le Club des Ambassadeurs pour permettre à 20 anciens participants de revenir aux Rencontres Economiques. Ils sont sélectionnés sur les mêmes critères que les 100 élus.
ACHTRIMI Cyril, Orange
BAUDET Jules, École polytechnique
BENNACEUR Medhi, École polytechnique
BEUVE Estelle, EM Strasbourg – Université de Strasbourg
CHAMPETIER Romain, AXA
DEVALLET Anne-Sophie, Toulouse School of Economics – Université Toulouse 1 Capitole
GRANDEAU Raphael, Air Liquide
GUEYE Diakhère, École polytechnique
JAPY Thomas, Manchester University
LECLAIR Blaise, EHESS / Ecole d'Economie de Paris
LEPOTIER Julien, ENSTA Bretagne / Naval Group
LOZZA Marc, Agence Apia
MBOW Elie, La Poste
POUGET-ABADIE Théophile, Amundi
SIGWALT Antoine, Banque de France
STAMPER Emeric, Institut Polytechnique de Paris/ Safran
TALLET Nicolas, Université Bordeaux Montaigne / EPCI Bordeaux Métropole
TAUFFLIEB Augustin, HEC Alumni
TOURNIER Pierre, Boston Consulting Group
ZIVRÉ Camille, Korelya