Lyric Night: Carmen
See you on Saturday, July 4th at 9:15 pm for an exceptional evening
Visit our website
On the occasion of the Rencontres Economiques Aix en Seine, (re)discover Carmen, the cult opera by Georges Bizet, conducted by Pablo Heras-Casado and directed by Dmitri Tcherniakov, a production of the Festival d'Aix 2017.
We would like to thank the Festival d'Aix for this special preview screening, which launches #LaScèneNumérique, the 100% digital edition of the Festival d'Aix, produced in partnership with Arte.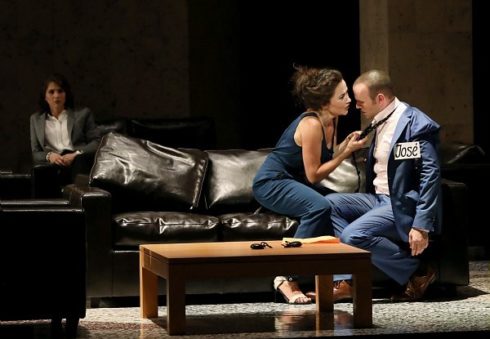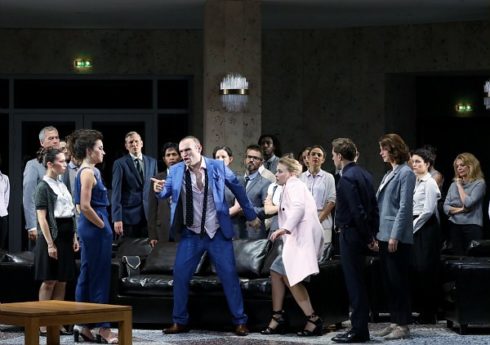 Crédits photos : Carmen de Georges Bizet dirigé par Pablo Heras-Casado et mis en scène par Dmitri Tcherniakov
© Festival d'Aix 2017 – Patrick Berger
---
Georges Bizet (1838-1875)
Carmen
Opéra-comique en quatre actes
Livret d'Henri Meilhac et Ludovic Halévy d'après la nouvelle de Prosper Mérimée
Créé le 3 mars 1875 à l'Opéra-Comique à Paris
Dialogues parlés réécrits par Dmitri Tcherniakov
Une production du Festival d'Aix-en-Provence
Direction musicale Pablo Heras-Casado – Mise en scène, décors et costumes Dmitri Tcherniakov – Costumes Elena Zaitseva – Lumière Gleb Filshtinsky

Assistant musical Emmanuel Calef – Chefs de chant David Zobel / Nino Pavlenichvili – Assistant à la mise en scène Joël Lauwers – Assistante aux costumes Elisabeth de Sauverzac – Assistante aux décors Katia Mochenova – Interprète Delia Roubtsova – Instructeur Frédéric Gallois
Carmen Stéphanie d'Oustrac – Don José Michael Fabiano – Micaëla Elsa Dreisig – Escamillo Michael Todd Simpson – Frasquita Gabrielle Philiponet – Mercédès Virginie Verrez – Zuniga Christian Helmer – Moralès Pierre Doyen – Le Dancaïre Guillaume Andrieux – Le Remendado Mathias Vidal
L'Administrateur Pierre Grammont – Figurant.e.s Jean-Philippe Ansaldi, Adrien Arnaud, Florian Arnaud, Vincent Cavallotto, Sandra Core, Quentin Filippi, Julien Gourdin, Morgan Ouhida, Cécile Peyrot, Matthieu Philippon, Kévin Poli, Etienne Roudel, Joëlle Savinien, Robin Sebeille, Jim Solian,
Bernard Traversa, Emilie Yana
Chœur Chœur Aedes – Chef de chœur Mathieu Romano – Chœur d'enfants Maîtrise des Bouches-du-Rhône – Chef de chœur Samuel Coquard – Orchestre Orchestre de Paris
---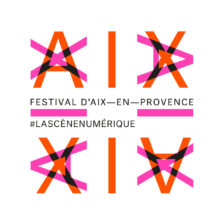 The Festival d'Aix-en-Provence presents
#LASCÈNENUMÉRIQUE
The 2020 edition of the Festival d'Aix-en-Provence is not cancelled, it is simply prevented. Thus, by involving a hundred personalities (not counting orchestras), this edition will take place in its own way. Elsewhere, differently.
From Monday 6 to Wednesday 15 July, the digital stage will offer a daily schedule punctuated by four events – most of them broadcast on France Musique and ARTE Concert and in full on the Festival website, from a dedicated channel, as well as on its social networks. A theme will give each day its unity.