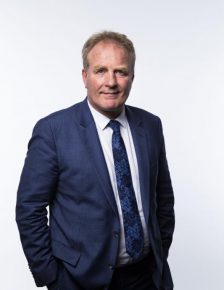 Bio
Elected President of the CFE-CGC Confederation, in June 2016 at the Lyon congress and re-elected in 2019 at the Deauville congress, François Hommeril, a geology engineer, has maintained some very close attachments in the field, militants and members of the organization during his term. It will be noted, and this explains his entire career, that François became a member of CFE-CGC (Federation of Chemistry) in 1990.
Born on July 23rd, 1961 in Normandy, François Hommeril has worked twenty years as a research and manufacturing engineer for the industrial group Péchiney (which became later Alcan then Rio Tinto). A company where he has gradually built a solid union path, assuming some various mandates - including those of union delegate, central union delegate, coordination manager, joint bodies of negociation, member of the european works council...
Maintaining contact with the field and investing in the defense and improvement of working conditions, he became a prud'homal adviser from 2003 to 2017 and President of the CFE-CGC departmental union in Savoie and a member of the board of directors of APEC Rhône-Alpes. In 2006, he joined the CFE-CGC confederation as National Delegate to the "Europe and International pole" untill 2010. His involvement and investment led him naturally in 2010, to the post of National Secretary in charge of Training "Throughout life" within the Employment and training sector, still having the responsibility of the Europe and International sector.
François Hommeril then devoted himself to his union, became president of the Dauphiné-Savoie chemistry union from 2015 and 2016. In 2016, he was called to run for the mandate of the President of the CFE-CGC. He was elected to the Lyon congress with a commitment: "Restore meaning and perspectives" with Alain Giffard and Franck Zid. During these three years, he has brought back the essential gathering and unity of the organization. This mandate, despite an abused social dialogue at the inter-professional level, showed an increased representativeness and electoral results in a strong progression. The slogan of the Deauville congress, "The future in our hands" has illustrated the will of François Hommeril and his executive board, to work even more on the strength, independence and freedom of tones and action of the CFE-CGC.
---