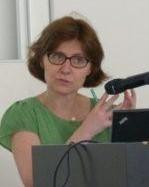 Agnès BENASSY-QUERE
Member & Chief economist

Le Cercle des économistes & Direction Générale du Trésor
Bio
Current positions
- Professor at the University of Paris 1 Panthéon-Sorbonne
- Professor at the Paris School of Economics
- Non-resident researcher, Bruegel
- Member of the High Council for Financial Stability
- Member of the Conseil des Prélèvements obligatoires
- Member of the National Productivity Council
- Member of the General Council of the Banque de France
- Member of the Franco-German Economic Analysis Council
Previous positions
- Deputy Chairman of the Conseil d'Analyse Economique
- Professor of economics at the University of Lille 2, the University of Paris - Ouest and the Ecole Polytechnique
- Director of CEPII, Centre d'Etudes Prospectives et d'Informations Internationales
- Columnist for France Culture
- President of the French Association of Economic Sciences
Education
- Thesis at the University of Paris IX-Dauphine
- Ecole Supérieure de Commerce de Paris
Main publications
Books
– Economic Policy: Theory and Practice, avec B. Coeuré, P. Jacquet et J. Pisani-Ferry, Oxford University Press, août 2010, 2ème edition 2018. Traductions en Italien (Il Mulino, 2014) et en Chinois (China Renmin University Press, 2015).
– Politique Economique, avec B. Coeuré, P. Jacquet et J. Pisani-Ferry, De Boeck, 4ème édition 2017
– Les Taux d'Intérêt, avec L. Boone et V. Coudert, la Découverte, 3 ème édition 2015.
– Politique Economique, avec B. Coeuré, P. Jacquet et J. Pisani-Ferry, De Boeck, 3ème édition 2012.
– Le système monétaire international : une introduction, Livre sonore, De Vive Voix, 58 min., 2012
– Économie de l'Euro, avec B. Coeuré, La Découverte, collection Repères, 3ème édition, 2014.
– Macroéconomie monétaire internationale, Economica, 2ème édition 2015.
Book chapters and various publications
– "Memo for the Commissioner responsible for taxation," in Demertzis, M., and G. Wolff (eds.), Braver, Greener, Fairer, Memos to the EU leadership 2019-2024, pp. 114-129, Bruegel, September 2019.
– "Towards a Franco-German approach on Euro area's economic governance", in Nida-Rümelin, J., von Daniels, D., and N. Wloka (eds.), Internationale Gerechtigkeit und Institutionelle Verantwortung, De Gruyter, pp. 205-220, 2019.
– "La connaissance au service de la société", in Savoir, Penser, Rêver, p. 83-103, Flammarion, 2018.
– Le macroprudentiel dans l'arsenal de politique macroéconomique en zone euro, Annales des Mines, août 2018, pp. 79-83.
– "Unequal imbalances", in Ordo-liberalism vs. Anglo-Saxon-Latin pragmatism: Incompatible economic philosophies?, CEPR ebook, 22 novembre 2017.
– Europe's Political Spring: Fixing the Eurozone and Beyond, with Francesco Giavazzi, Vox-EU, 31 mai 2017.
– La zone euro en quête de coordination, Revue Française d'Economie, n°125 spécial « L'Europe après 60 ans », 1er trimestre, 2017.
– Tirer le meilleur du marché unique européen, avec V. Aussilloux, C. Fuest et G. Wolff, Note du Conseil d'Analyse Economique n°38, février 2017. Making the best of the European single market, Bruegel Policy Contribution n°3, 2017.
– "Making the European semester more efficient", in Investment and growth in advanced economies, Conference proceedings, ECB forum on central banking, Sintra, 26-28 June 2017, pp. 325-332.
– "Jobs union", in A. Bénassy-Quéré and F. Giavazzi, eds., Europe's political spring: fixing the eurozone and beyond, CEPR ebook, 31 May 2017.
– Reconciling risk sharing with market discipline: A constructive approach to euro area reform, Franco-German Report, 17 janvier 2018, CEPR Policy Insight No. 91, avec M. Brunnermeier, H. Enderlein, E. Farhi, M. Fratzscher, C. Fuest, P.-O. Gourinchas, P. Martin, J. Pisani-Ferry, H. Rey, I. Schnabel, N. Véron, B. Weder di Mauro, and J. Zettelmeyer.
– "The International Monetary System in Perpetual Search of Stability", in Bergsten, C. F. and A.G. Russell, International Monetary Cooperation: Lessons from the Plaza Accord after Thirty Years, chapter 13, Peterson Institute of International Economics, April 2016, pp. 237-260.
– "A sovereignless currency", In Baldwin, R. and F. Giavazzi, eds., How to Fix Europe's Monetary Union, CEPR e-book, 2016.
– Quelle union budgétaire pour la zone euro ?, avec X. Ragot et G. Wolff, Note du Conseil d'Analyse Economique n°29, février 2016.
Main areas of expertise
International monetary issues; European integration; economic policy
---