Speaker
Daniel NAHON
Professor - Aix-Marseille University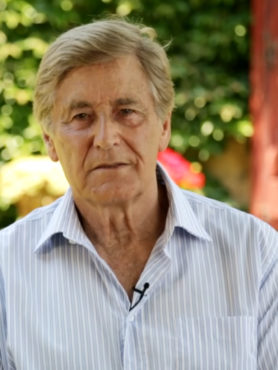 Work experience :
-PhD-1967on Mechanics of soils and rocks
-PhD- 1976 (Thèse d'état es-sciences) on Lateritic soils and weathering formation through time in Senegal and Mauritania.
-Research studies on deep lateritic soils and weathering profiles (land) in Sub-Sahelian -Africa (22 countries) from 1976 ; In Brazil (from 1981) ; in Australia (From 1988)
-Research studies on semi-arid zone soils in Spain (from 1977 to 2000), in Morocco ( from 1976) and Tunisia (From 2010 to 2013), in NE Brazil (from 1981 to 2007), in Ethiopia(1997),
-Research studies on temperate zone soils in Canada (2013), in the USA included Hawaï (from 1980 to 2000), in France (from 1980)
-Experienced in international soil science and land uses research
-Skilled in chemical, mineralogical, petrological (i.e. structures and textures) soil rates formation and degradation, erosion, land uses, understanding of agricultural systems. Cycles of mineral and organic elements ; modelling of equilibrium and non-equilibrium thermodynamics.
-Fields knowledge of soils and land weathering profiles from parent rock to top soils in order to understand behavior of land cover to climate change and waterflux circulation.
-More than 4000 pits and profiles examined through the World in my career.
-Mechanisms studied at atomic scale essentially to understand behavior of metal elements
-Many positions of professor from 1 to six months in different universities through the World : Invited professor in Urbana Champaign University (Giving courses and lectures) 1989-1990 ; in Yale University giving lectures (1989) ;in Indiana University in Bloomington (Fellow researcher-1993) ; in Sao Paulo University(Brazil) 1993 ; in CSIRO (Fellowship) and UWA  in Perth (1994) and 2002 (Honoris Causa) and many others universities as invited for conferences or lectures (Northwestern Univ., Texas Tech Univ. ; UQAM Montreal ; USGS Reston (Courses-1985) ;ANU Canberra (2000) ; University of Porto Allegre ( Courses- 2005) ; Case Reserve Western Univ. (1999)…
Leader Experiences (in France, Quebec ,Australia, Brazil) :
-Président de la Commission des Grands Équipements de Recherche  du Québec (2009-2010)
-Président du Comité Français d'Evaluation de la Coopération Universitaire avec le Brésil (COFECUB) 1999 – 2005
-Président du Centre en Coopération International de Recherche Agronomique pour le Développement (CIRAD) 1999 – 2003
-Président du Comité Français de Coopération Scientifique avec l'Australie (Comité Agriculture, Terre, Eau, environnement)  2002-2006
-Conseiller spécial recherche du Ministre de l'Education Nationale, de la Recherche et de la Technologie  – 1999
-Directeur général de la Recherche au Ministère de l'éducation nationale de la recherche et de la technologie (MENRT) 1997-1998
-Vice-Président Recherche de l'Université d'Aix Marseille 3  – 1997
-Fondateur du CEREGE et du Technopôle de l'Arbois  – 1994…
-Member of Steering Committee of CSIRO (Perth) 2000
-Directeur du Laboratoire de Géosciences de l'Environnement de l'Université Aix-Marseille 3 – Unité de Recherche associée au CNRS n°132 (janvier 1986 à septembre 1995) et Fédération d'unités sur l'environnement (CEREGE n° 17) (1994-1997)
-Membre du conseil Scientifique de l'INSU (CNRS)
-Vice-Président du Grand Programme de l'Institut National des Sciences de l'Univers (INSU-CNRS) " Dynamique et Bilan Global de la Terre"
-Membre du Comité National de la Recherche Scientifique – Section 20 (1989 -1991)
-Membre de la Commission de Réflexion sur l'Enseignement des Sciences de la Terre et de l'Univers dans les Lycées et les Collèges (1988-1989)
-Directeur scientifique pour les Sciences de la Terre et de l'Univers à la direction de la Recherche et des Etudes Doctorales au Ministère de l'Education Nationale (oct. 1991 à oct. 1993)
-Directeur du Centre d'Initiation à l'Enseignement Supérieur pour les Universités de Nice, de Corte, de Toulon, d'Avignon et les trois Universités de Marseille (CIES) (oct. 1989 à oct. 1991)
-Président du Comité National des Universités (35° section) (1988-1991)
and many others….