Speaker
Hakim BEN HAMMOUDA
Former Minister of Economy & Finance - Republic of Tunisia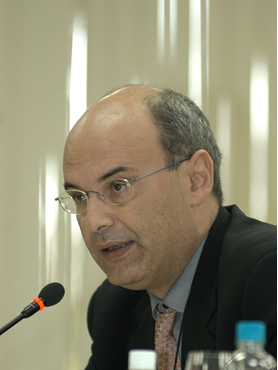 Hakim Ben Hammouda served as Minister of Economy and Finance of Tunisia from 2014 to 2015.
Before being appointed Minister, he had occupied senior positions within several  international organizations including as Special Advisor to President of the African Development Bank (AfDB) from 2011 to 2014 and as Director of the Institute of Training and Technical Cooperation at the World Trade Organization (WTO) between 2008 and 2011. Prior to that, he had served over 10 years at the United Nations Economic Commission for Africa (UNECA), first as Director of the Regional Office in Central Africa and then as Director of the Trade and Regional Integration division and finally as Chief Economist.
For many years, he has dealt with Africa's development and has contributed to the implementation of major programmes of actions such as NEPAD. During his career, he has directly supervised key continental publications such as Economic Report on Africa, African Economic Outlook (Afdb, OECD and UN) or Assessing regional Integration in Africa.
Hakim Ben Hammouda has published over 20 books and several journal articles on the topic of international trade and economic development. He currently contributes to weekly and monthly chronicles in several newspapers across Africa. Hakim Ben Hammouda holds a PhD in International Economics from the University of Grenoble where he regularly lectures in economic development.