Guillaume PEPY
Chairman of the Management Board - SNCF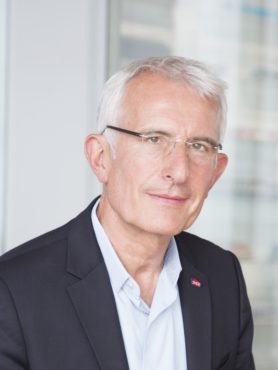 After holding various positions in the State administration – in particular those of Director of the Cabinet of Ministers of Public Service and then Labour – and, in the private sector, as Deputy Director General of the Kantar TNS group, Guillaume Pepy joined the SNCF management team in 1997. In particular, he was Director of Strategy and then Deputy Managing Director of Passenger Activities, before being appointed President in 2008 and reappointed in 2015.
Following the reorganisation of the public rail group and the reunification of SNCF with Réseau ferré de France (RFF) in August 2014, Guillaume Pepy was appointed Chairman of the Management Board of the new SNCF public industrial and commercial establishment (ÉPIC), as well as Chairman and Chief Executive Officer of ÉPIC SNCF Mobilités.
Among other responsibilities, Guillaume Pepy was Chairman of Eurostar and Voyages sncf.com, and Vice Chairman of Keolis. He is a member of the Keolis Supervisory Board. He also sits on the Board of Directors of Suez and chairs its Nominations and Remuneration Committee.