Speaker
Christian de BOISSIEU
Member - Cercle des économistes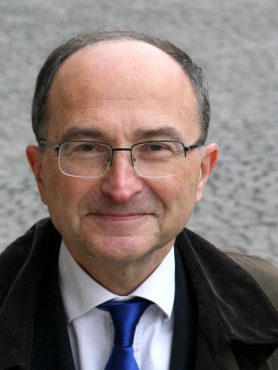 Present Positions :
Professor of economics at the University of Paris 1 Panthéon-Sorbonne
Professor at the College of Europe( Bruges)
Member of the Board of the French SEC (« Autorité des Marchés Financiers")
Vice- President of the Cercle des économistes
Fellow of the Academy of Technology (France) and of the Royal Academy of Belgium
President of the Franco-British Council
Former Positions :
Chair of the Conseil d'Analyse Economique (CAE) attached to the Prime Minister
Member of the Attali Commission
Economic Advisor to the Paris Chamber of Commerce and Industry
Education :
Agrégé des facultés de droit et de sciences économiques
Docteur es sciences économiques (PhD, University of Paris)
Graduate from Institut d'Etudes Politiques de Paris (Sciences Po)
Recent Publications
Les Systèmes Financiers. Mutations, crises et régulation (sous la direction de Ch. de Boissieu), Economica,, 4 ème édition 2013.
De la crise des subprimes à la crise mondiale, (avec P. Artus, J.P. Betbèze, G. Capelle-Blancard), livre de Poche, La Documentation Française, 2010.
Eurodefense Pour une relance d'une Europe de la défense (en collaboration), Edition Unicomm, Paris 2009. .
Prévenir et Gérer l'instabilité des Marchés Agricoles (en collaboration avec J.P. Jouyet et S. Guillon), rapport pour le Ministre de l'Agriculture, de l'Alimentation et de la Pêche, septembre 2010.
Un Monde sans Europe ? (avec Ph. Esper, P. Delvolvé et Ch. Jaffrelot), éditions Fayard 2011.
Et si le soleil se levait à nouveau sur  l'Europe ?, (sous la direction de Ch. de Boissieu et J.H. Lorenzi), Fayard, 2013.
Towards Banking Union : a Report , Joint Research Centre (European Commission) and College of Europe, December 2013.
Comment la régulation financière peut-elle sortir l'Europe de la crise ?, (sous la direction de Ch.de Boissieu, F.G. Le Theule et P.Bailo), Presses de l'ENA, 2014.
La gouvernance économique dans le contexte institutionnel européen , dans Etude Annuelle du Conseil d'Etat, la Documentation Française, 2015.
« Vers la fin d'une certaine naïveté monétaire de l'Europe », entretien dans Questions Internationales, novembre-décembre 2015.
Financer l'économie réelle  (sous la direction de Ch.de Boissieu et D.Chesneau), Editions Eyrolles, 2016.
Main fields :
Monetary theory and policy; Finance ; Banking , banking regulation and financial regulation ; economic policy ; European integration