Speaker
Marianne de BATTISTI
Head of Innovation, communication & corporate relations - Icade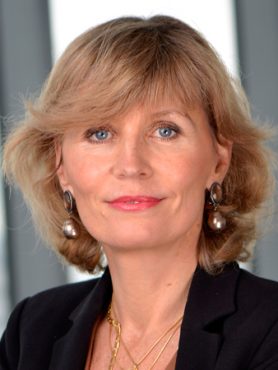 A graduate of the Institute of Political Studies (Grenoble and  Paris) and the Ecole Nationale des Ponts et Chaussées, Marianne de Battisti is a real estate specialist in the private (residential and tertiary) and public (hospitals, schools and administration) sectors with Icade, where she successively held the positions of Development Director in Lyon, followed by Branch Director in Grenoble and Rouen, then Director of Establishment in the North of France and the Paris region. At the same time, she had management responsibilities in several mixed public-private real estate companies. In 2001, she took the position of Managing Director of Icade Cités.
In 2004, Marianne de Battisti became a  member of Icade's Executive Committee, in charge of international, communications and marketing.
After the assignment abroad, she headed the Key Accounts, Corporate Relations, and Communications departments as part of the Executive Committee.
Since 2011, she has been in charge of key accounts, institutional relations and communication within Comex . She is Director of Enterprise & Media, Director of SCET and a certified Company Director (French Institute of Directors 2012). She is a member of the RICS (Royal Institution of Chartered Surveyors). She is also a member of the Real Estate Womens' Circle, the Association of Real Estate Directors and Vice President of Alter Egales (the network of women in managerial positions in the Caisse des Dépôts group).
Since 2015, Marianne de Battisti is head of innovation,  communication and corporate relations.
In September 2012, Marianne de Battisti was honoured by being appointed a Knight in the National Order of Merit. Board member for the IEIF (Institut de l'Épargne Immobilière et Foncière).