Speaker
Shamina SINGH
Executive Vice President, Sustainability & President - Mastercard Center for Inclusive Growth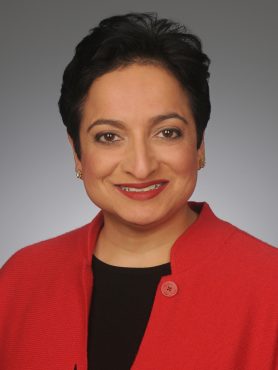 The Mastercard Center for Inclusive Growth advances sustainable, equitable economic growth and financial inclusion around the world. As an independent subsidiary, we combine expertise, data, technology and philanthropic investments to empower a community of thinkers, leaders and innovators working on the front lines of inclusive growth.
Professional Experience:
Shamina has spent her career building connections across the public, private and non-profit sectors to deliver strategies that contribute positively to the global economy. As president of the Mastercard Center for Inclusive Growth, she is responsible for ensuring the Center achieves its mission to advance sustainable and equitable economic growth and financial inclusion around the world. Previously, she served as the Global Director of Mastercard's Government Services and Solutions, where she worked to digitize social subsidy programs in over 40 countries.
In 2015, Shamina was appointed by President Obama to a six-year term on the board of the Corporation for National and Community Service, a federal agency responsible for engaging more than five million citizens in community service. She currently serves as Board Chair. She is also a member of the U.S. Secretary of State's Advisory Committee on Public-Private Partnerships, a newly-formed advisory body to the U.S. Government on policies, proposals and strategies for developing public-private partnerships that promote shared value with the private sector worldwide.
Prior to joining Mastercard, Shamina led Government and Public Affairs for Nike and spent five years with Citigroup's Global Community Development Group. Over a 15-year career in the public sector, she held senior positions in the White House and the U.S. House of Representatives.
Shamina is an alumna of the World Economic Forum's Young Global Leaders program and currently serves on the Council on Economic Growth and Social Inclusion. She is on the board of Global Health Corps and the advisory boards of Data & Society and the Beeck Center for Social Impact + Innovation at Georgetown University. She is a Henry Crown Fellow with the Aspen Institute. Shamina holds an M.P.A from the Lyndon B. Johnson School of Public Affairs at the University of Texas, Austin and a B.S. from Old Dominion University.
Twitter Account:
@shaminasingh
@cntr4growth
Contributions