Intervenant
Sergei GURIEV
Chief Economist - BERD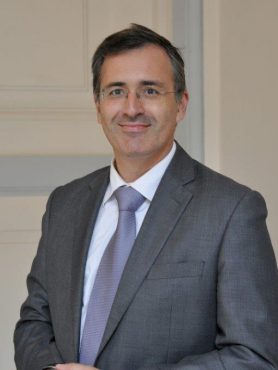 Sergei Guriev received his Dr. Sc. (habilitation degree) in Economics (2002) and PhD in Applied Math from the Russian Academy of Science (1994), and M.Sc. Summa Cum Laude from the Moscow Institute of Physics in Technology (1993). In 1997-98, Dr. Guriev visited the Department of Economics at M.I.T. for a one-year post-doctoral placement, and in 2003-2004, the Department of Economics at Princeton University as a Visiting Assistant Professor.
In 2004-13, Dr. Guriev was a tenured professor of economics and rector of the New Economic School in Moscow.
Dr. Guriev's research interests include contract theory, corporate governance, political economics and labor mobility. Dr. Guriev has published in international refereed journals including American Economic Review, Review of Economic Studies, Journal of European Economic Association, Economic Journal, Journal of   Economic Perspectives and American Political Science Review.
In 2006, he was selected a Young Global Leader by the World Economic Forum. In 2011, he was a member of the World Economic Forum's Global Agenda Council on Europe, in 2012-14 – a co-chair of the Global Agenda Council on the New Economic Thinking, and in 2014-15 – a member of the Global Agenda Council on the Geoeconomics. In 2000 and 2005, he was awarded Gold Medal for the Best Research in Development Economics by the Global Development Network. In 2001, he was announced the Best Academic Manager in Humanities by Russia's Science Support Foundation. In 2009-11, he was included in the top 100 of the President of Russia's Cadre Reserve. In 2009, he was also awarded the Bill Maynes Award by the Eurasia Foundation. In 2009 and 2010 he received the Independent Director of the Year prize from Russia's National Association of Independent Directors. In 2010, he received a Certificate in Company Directorship from the Institute of Directors (UK) and was voted the Best Independent Director by the Association of Managers of Russia and the Russian Institute of Directors.
He has been a a board member of Sberbank (2008-14), E.ON Russia (2013-14), Alfa-Strakhovanie Insurance Company (2009-13), Russia Venture Company (2009-13), Russian Home Mortgage Lending Agency (2008-12) and Russian Agricultural Bank (2008-09), a member of the President of Russia's Council on Science, Technology and Education (2008-12), and a member of the board of the Dynasty Foundation (2007-2015).  He is a member of the Scientific Council of the BRUEGEL think tank (Brussels), of the Advisory Council of the Peterson Institute on International Economics (Washington, DC), and of the Academic Advisory Board, Blavatnik School of Government, Oxford University. He is also a Research Fellow at the Centre for Economic Policy Research, London.
In 2006-13, Sergei Guriev has been running a monthly column in Forbes Russia. In 2003-13 he has also been a biweekly columnist for the leading Russian business daily Vedomosti. He has contributed columns to the New York Times, Financial Times, Washington Post, Project Syndicate, and Moscow Times.
Sergei Guriev on Twitter: @sguriev
Publications:
Cheremukhin, Anton, Mikhail Golosov, Sergei Guriev, and Aleh Tsyvinski (2016). "The Industrialization and Economic Development of Russia through the Lens of a Neoclassical Growth Model. » Forthcoming, Review of Economic Studies.
Egorov, Georgy, Sergei Guriev, and Konstantin Sonin (2009). "Why Resource-Poor Dictators Allow Freer Media: A Theory and Evidence from Panel Data." American Political Science Review, 103(4), 645-668.
Guriev, Sergei, and Ekaterina Zhuravskaya (2009). "(Un)Happiness in Transition." Forthcoming, Journal of Economic Perspectives, 23(2), 143-68.
Guriev, Sergei, and Andrei Rachinsky (2005). "The Role of Oligarchs in Russian Capitalism." Journal of Economic Perspectives, Winter 2005, 131-150.