Intervenant
Francis HUSTER
Actor, film director and scriptwriter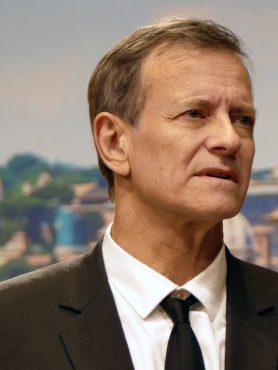 Francis Huster, born on December 8th 1947 in Neuilly-sur-Seine, is a French actor, director and  script writer.
Brilliant student at the Lycée Carnot in Paris, Francis Huster was only 15 years old when he got accepted into the Conservatoire municipal in the 18th arrondissement of Paris. He then studied both at the Cours Florent and at the Conservatoire National Supérieur d'Art Dramatique where he was awarded three distinctions. In 1971, this enabled him to become a member of the Comédie Française, before being named 'sociétaire' in 1977.
While working at the Comédie Française, Francis Huster played in numerous movies and founded the 'Compagnie Francis Huster'. The latter was conducive to the production of various shows aimed at a larger and more popular audience. This experience notably gathered a number of young talented people, such as Clotilde Courau, Valérie Crunchant, Cristiana Reali, Estelle Skornik, Valentine Varela, Olivier Martinez, etc. The 'Compagnie Francis Huster' performed, among other plays, Le Cid by Corneille in  1933 and 1994 in a number of different cities across France, Belgium and Monaco.
Francis Huster resigns from his role at the Maison de Molière in 1981 in order to devote himself fully to his career in cinema. He notably landed a role in Qu'est-ce qui fait courir David? by Elie Chouraqui. A decisive meeting with Claude Lelouch constituted a catalyst for a long-lasting collaboration between the two men, which led to the production of seven movies among which Si c'était à refaire (1976) and Le Courage d'Aimer (2005).
In 2008, Francis Huster directed a remake of Umberto D., a movie originally by Vittoria De Sica.  The latter, titled Un homme et son chien, Un homme et son chien, starred Jean-Paul Belmondo, Hafsia Herzi, Jean Dujardin, Robert Hossein, Pierre Mondy, Caroline Silhol, Barbara Schulz, Emmanuelle Riva, Micheline Presle,Nicole Calfan and Daniel Prévost.
Francis Huster's book, L'énigme Stefan Zweig, was published by the publishing house Le Passeur l'ouvrage L'énigme Stefan Zweig in November 2015 and prefaced by Eric Emmanuel Schmitt.
AWARDS
Drame
Television
Nominations
Décorations