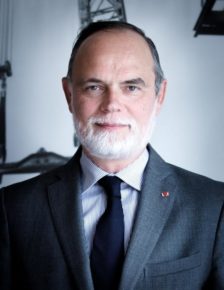 Bio
Edouard Philippe, 52 years old, is Mayor of Le Havre and President of the urban community Le Havre Seine Métropole.
He graduated from Sciences-Po and ENA in 1997 and started his professional career as a member of the Council of State.
In 2002, Alain Juppé appointed him General Director of Services of the UMP when the party was created. A lawyer at the Paris bar, he joined the law firm Debevoise and Plimpton LLP in 2005 and then became Director of Public Affairs at Areva from 2007 to 2010.
In 2010, he succeeded Antoine Rufenacht as Mayor of Le Havre. Elected as a Member of Parliament in 2012, he was re-elected mayor of Le Havre in the first round in 2014.
On 15 May 2017, Emmanuel Macron appointed him Prime Minister, a position he will hold until 3 July 2020. In July 2020, Edouard Philippe was elected Mayor of Le Havre, and President of the Urban Community Le Havre Seine Métropole.
Since November 2021, he is President of the International Association of Cities and Ports (IACP).
He is also the founding president of the Horizons party and a director of the company Atos.
Edouard Philippe is the author and co-author of several novels: L'heure de vérité (2007, Flammarion), Dans l'ombre (2011, Lattès), Des hommes qui lisent (2017, Lattès) and Impressions et lignes claires (2021, Lattès).
Crédit photo : ©Lou Benoist – Ville du Havre
---