Intervenant
Alain GUILLOU
Senior Executive Vice President - Naval Group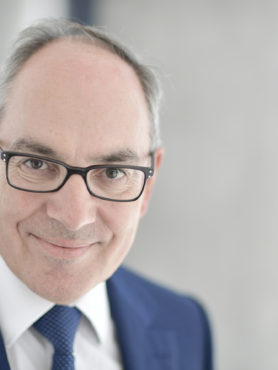 Alain Guillou started his career in DCNS Lorient Shipyard where he held several positions as Head of CAD/CAM Department (1984), Special Advisor to the Director for Industrial Methods & Products Policy (1988) then Marketing & Sales Director for export and diversification (1991).
He joined DCNS head office in Paris as Senior Advisor to Naval Systems Director (1994) and was later appointed by the General Delegate for Armament (DGA) to design DGA's matrix organisation and competences policy (1996). He was then designated as Procurement Policy Director (1996) and afterwards was responsible for driving the development of a Strategic Information System for the Armament's Programs (SIPROG, 1999) before joining the Expertise & Evaluation Directorate as Operations / Marketing & Sales Director (2001).
Coming back to DGA's Cabinet as Senior Advisor for Change Management to GeneralDelegate for Armament (2003), he was designated as Senior Advisor for Social Issues to the French Ministry of Defence, Michèle Alliot-Marie (2004). He returned to DGA as HR Corporate Director, Executive Committee member (2007), before joining Naval Group where he assumed the equivalent position as Group HR Director, Executive Committee member (2011). He extended his range of responsibilities as HR & Operational Excellence Director (2013), HR & Operations Director (2015) and HR, Operations & Anti-Submarine Warfare Director (2017), Executive Committee Member.
He was promoted (2017) as Senior Executive Vice President in charge of International Development and Anti-Submarine Warfare.
Alain Guillou graduated from ENSTA Bretagne (1984 – Engineering School) and INSEAD (1996 – executive MBA), Vice Admiral – Armament (R), Knight of the French Legion of Honour and Officer in the National Order of Merit. He is a former French National Ski Team racer.