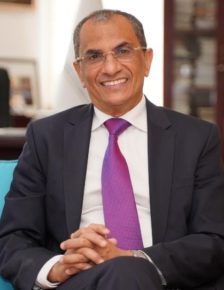 Nabil MOHAMED AHMED
Ministre de l'Enseignement Supérieur et de la Recherche

Ministre de l'Enseignement Supérieur et de la Recherche, République de Djibouti
Biographie
PhD in Plant Biology and Physiology, Dr. Nabil Mohamed Ahmed is the Minister of Higher Education and Research of Djibouti since May 2011. He recorded great contributions and successes which led to the development of human capital and research through the:
University of Djibouti with quality improvements of the infrastructures and curriculums as well as the implementation of a new campus, the creation of the Faculty of Engineering, the Center of Excellency of Logistics and Transport and the Center for Digital Technologies and Innovation.
Faculty of Medicine and the High Institute for Health Sciences as well as the implementation of The Regional Health Training Center with the development of international partnerships
Research Center of Djibouti with the provision of new laboratories and the expansion of human and material capacities at the Research Center of Djibouti as the Institute for date palm tissue culture.
Creation of the "Regional Research Observatory for Environment and Climate" for better regional joint research to forecast and prevent risks and prepare strategies for adaptation and resilience.
Dr. Nabil Mohamed Ahmed is the leader of the Djiboutian Space Program which is in phase to launch two satellites built by young Djiboutian engineers and technicians in collaboration with the University Space Center of Montpellier.
Besides, Dr. Nabil Mohamed has been UN expert for several studies in the field of environment and biodiversity protection.
For his valuable contributions and commitments, Dr. Nabil Mohamed Ahmed received high awards such as "Officier de l'Ordre du 27 Juin" in 2008 and "Commandeur de l'Ordre du 27 Juin" in 2018 and the "Commandeur des Palmes Académiques Françaises".
---