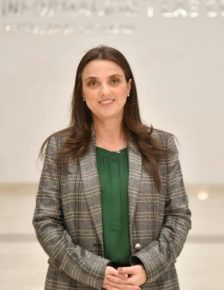 Karen ABUDINEN
Ministre de l'Information et des Communications Technologiques

Colombie
Biographie
She is a lawyer from the Universidad del Norte. Her professional career began at the Inter-American Development Bank (IDB) and the World Bank, where she confirmed her decision to articulate efforts to boost the population of her country and she decided to go beyond words and move on to action.
After this experience, for almost 9 years abroad, Karen Abudinen returned to her country, convinced that the word "impossible" has no place on her agenda. She began working in Barranquilla with the Nu3 Foundation, impacting thousands of children and families.
In 2013 she was appointed as Secretary of Social Management of the Mayor's Office of Barranquilla and in 2014, she worked as Director of Early Childhood of the Colombian Institute of Family Welfare (ICBF).
In 2016, she assumed the position of Secretary of Education in the Mayor's Office of Barranquilla. In 2017, she was appointed as the National Director of the ICBF, where she worked 24/7 for the welfare, care and protection of children, adolescents and the Colombian family, in general. In 2018, she was appointed by President Iván Duque as Presidential Advisor for the Regions, where she led the Building Country Workshops, managing to guarantee the presence of the State in all corners of Colombian territory through coordinated work with the country's governors and mayors.
Currently, she is the Minister of Information and Communication Technologies, a position in which she is in charge of designing, adopting and promoting policies, plans, programs and projects in the sector, as well as increasing and facilitating access to technologies for all the inhabitants of the national territory.
---