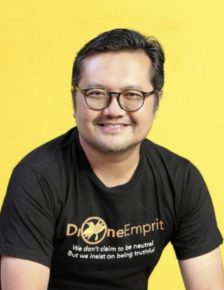 Ismail FAHMI
Fondateur

Media Kernels Indonesia
Biographie
Ismail Fahmi, Ph.D, is an information scientist who teaches at the University of Islam Indonesia (UII) in Yogyakarta. He is also the founder of PT Media Kernels Indonesia, where he has experience developing a big data system known as Media Kernels, or Drone Emprit. This system analyzes online and social media using natural language processing techniques.
Additionally, Dr. Fahmi has collaborated with UII to develop the Drone Emprit Academic, which provides free access to social media data for students, researchers, and journalists who require it for their work.
Dr. Fahmi earned his bachelor's degree in Electrical Engineering from the Institute of Technology Bandung. He then went on to complete his master's and doctoral degrees in Information Science from the University of Groningen in the Netherlands.
His primary research interests include natural language processing, information extraction, automatic term extraction, relationship extraction, social network analysis, ontology development and population, digital library, plagiarism detection, and big data.
Dr. Fahmi frequently writes and publishes analyses on current issues related to cyber troops and computational propaganda. His aim is to promote data-driven literacy for the public.
---
---