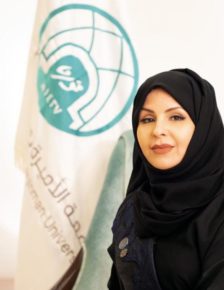 Einas AL-EISA
Présidente

Princess Nourah bint Abdulrahman University
Biographie
Prof. Einas AlEisa holds a PhD degree in Anatomy and Neurobiology from Dalhousie University, Canada. Throughout her career, she has published over 50 refereed articles in academia.
As the president of the university, she actively promotes women empowerment, which is one of the four strategic goals of PNU. This direction is highly supported by Saudi Arabia's Vision 2030.
She leads a number of initiatives supporting women's empowerment, such as the establishment of the National Observatory for Women . This Observatory is an entity that measures the performance of Saudi women in economy and the development of the country.
Prof. AlEisa is a member of many national boards and committees:
- Education and Training Evaluation Commission
- Saudi Universities Council
- King Abdulaziz City for Science and Technology
- King Salman International Award for Disability Research Committee
- National Committee for Narcotics Control
- Board of the Saudi Universities Sports Federation
- Member of the Steering Committee at the National Labor Observatory , Human Resources Development Fund, Ministry of Human Resources and Social Development.
---