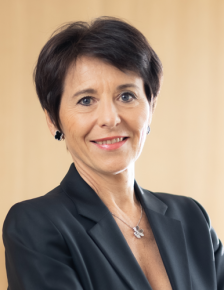 Biographie
With a long experience in global industrial companies, Christel Bories has developed a strong expertise in business transformation and development of strategy in complex international industrial environments.
Christel Bories is Eramet's Chairman and Chief Executive Officer since May 2017. A global mining and metallurgical group, Eramet is a key player in the extraction and valorisation of metals (manganese, nickel, mineral sands, Lithium) and the elaboration and transformation of alloys with a high added value (high-speed steels, high-performance steels, superalloys, aluminium and titanium alloys). Eramet employs 13,000 people in 20 countries with sales of 3.5€ billion in 2020.
Since taking over, Christel Bories has embarked the Group on a new strategic path with a significant managerial transformation to make it more agile, innovative and competitive in a rapidly changing environment. The objective is to create the conditions for value-accretive long-term growth through repositioning of the portfolio, with a focus on metals for energy transition, and a reinforced commitment to sustainable development and societal contribution.
Christel Bories is an active member of several major French bodies that promote the industrial sector future: she is Chairman of the French Mining and Metallurgy Sector Committee, and member of the Board of "France Industrie" and of the Executive Committee of the National Industry Conference (CNI).
Christel Bories was previously Deputy Chief Executive Officer of Ipsen SA from 2013 to 2016. She was President and Chief Executive Officer of Constellium (formerly Engineered products, Rio Tinto) from 2007 to 2011, prior to which she was a senior executive in both Pechiney and Alcan for fourteen years, of which eight years were as the General Manager of the Packaging business. Christel Bories spent seven years in strategic consulting prior to her industrial experience.
Christel Bories is a non-executive Director of Legrand SA (CAC40).
She is a graduate of the HEC business school in France.
---