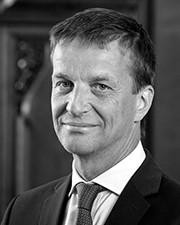 Ardo HANSSON
Conseiller économique du Premier Ministre

République d'Estonie
Biographie
Ardo Hansson is Economic Adviser to the Prime Minister of Estonia. Until June 2019, he was the Governor of the Bank of Estonia and a Member of the Governing Council of the European Central Bank.
Before taking that position in 2012, Mr Hansson worked for the World Bank, where he served from 2008 as the Lead Economist of the Bank's Economics Unit in China. He joined the World Bank in 1998, where he worked on several countries in Eastern Europe and the Western Balkans.
Between 1991 and 1997, Mr. Hansson held several senior positions in the Republic of Estonia, including Economic Adviser to the Prime Minister, member of the Monetary Reform Committee, and member of the Supervisory Board of the Bank of Estonia. During the 1990s, he was engaged on short-term consulting assignments for the governments of Mongolia, Poland, Slovenia and Ukraine.
Mr Hansson was born in Chicago, in 1958. He graduated with first class honours from the University of British Columbia in 1980 and earned a Ph.D. in economics from Harvard University in 1987. Since completing his studies, he has held faculty and research positions at several well-known universities in Canada, Finland and Sweden and published numerous articles on economic policy.
---