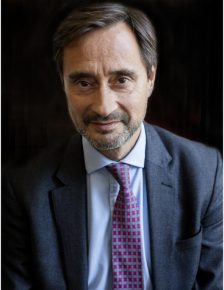 Robin NIBLETT
Director and Chief Executive

Chatham House
Bio
Robin Niblett has been the Director and Chief Executive of Chatham House (the Royal Institute of International Affairs) since January 2007. Founded in 1920, Chatham House is consistently ranked one of the world's leading public policy institutions on international affairs, geopolitics and geo-economics. It has a full-time staff of nearly 200, based at its historic premises in St James's Square, and a further 150 non-resident Associate Fellows around the world. It is an independent Institute, operating under a Royal Charter, with HM Queen Elizabeth II as its Patron. Its work is supported by a diverse and global community of individual members, private foundations, government departments, international organisations, multinational companies and philanthropic donors.
Before joining Chatham House, from 2001 to 2006, Dr Niblett was the Executive Vice President and Chief Operating Officer of Washington-based Center for Strategic and International Studies (CSIS). During his last two years at CSIS, he also served as Director of the CSIS Europe Programme and its Initiative for a Renewed Transatlantic Partnership.
He is currently co-Chair of the World Economic Forum's Global Futures Council on Geopolitics and has served as the Chair of its Global Agenda Council on Europe (2012-13). He was a Special Adviser to the House of Commons Foreign Affairs Committee (2015-17) and Chairman of the Experts Group for the 2014 NATO Summit; He was Chair of the British Academy's Steering Committee of Languages for Security Project (2013). From January 2010–May 2020, he was a Non-Executive Director of Fidelity European Values Investment Trust.
Dr Niblett is the author of Global Britain, Global Broker (Chatham House 2021); Britain, the EU and the Sovereignty Myth (Chatham House 2016); editor and co-author of America and a Changed World: A Question of Leadership (Chatham House/Wiley-Blackwell, 2010); and contributing author and co-editor with William Wallace of Rethinking European Order (Palgrave, 2001). His commentary and analysis have appeared in Foreign Affairs, Newsweek, The Financial Times, The Washington Post, The Times, The Daily Telegraph, The Guardian and Reuters, among others. He is a regular commentator on Bloomberg 'Surveillance' and CNN International.