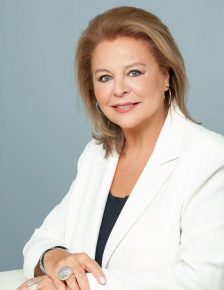 Loúka KATSELI
Chairwoman of the Board

Banque nationale de Grèce (Chypre)
Bio
Louka T. Katseli is Professor Emeritus of International Economics and Development at the Department of Economics of the National Kapodistrian University of Athens, Chair of the Board of Directors of the National Bank of Greece in Cyprus, (11/2015 -) and CEO of the Rightholders Cooperative EDEM. She is also Vice-Chair of the Executive Board and Chair of the Finance & Human Resources Committee of the African Capacity Building Foundation (ACBF), and member of the Independent Commission for Sustainable Equality, Progressive Alliance of Socialists and Democrats - S&D, (Progressive Society).
She has served as Chair of the Board of Directors of the National Bank of Greece (3/15 – 11/16) and Chair of the Hellenic Banking Association (4/15 – 11/16). She was Greece's Minister of Labor and Social Security (2010 - 2011), Minister of Economy, Competitiveness and Shipping (2009-2010) and a member of the Hellenic Parliament (2007-2012).
Prof. Katseli has also served as Director of the OECD Development Centre in Paris (2003-2007), Director General of the Center of Planning and Economic Research (KEPE) (1982-1986), Economic Advisor to the Greek Prime Minister (1993-1996) and member of the UN Committee of Development Policy (1996 - 2003), the European Commission's Economic and Monetary Policy Committees and the "Comité des Sages" on the Reform of the European Social Charter (1995-1997) et al.
Prof. Katseli holds a Ph.D. (1978) in International and Development Economics from Princeton University (Distinguished Dissertation in Economics), an MPA in Public Affairs(1974) from the Woodrow Wilson School for Public and International Affairs, an MA in Economics (1975) from Princeton University and a BA in Economics (1972, cum laude and Phi Beta Kappa) from Smith College. She has served as Assistant and Associate Professor of Economics at Yale University's Department of Economics and the School of Organization and Management (1977-1985).
She is the recipient of numerous distinctions and fellowships, including that of the Best Young Professor at Yale (1980). She has published extensively in the areas of development and international economics, migration management and institutional economics.