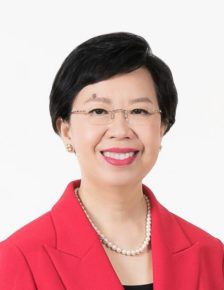 Lily KONG
President, Singapore Management University

Singapore Management University
Bio
Professor Kong is SMU's fifth President, and the first Singaporean to lead the 22-year old university. She is also the first Singaporean woman to head a university in Singapore. She was previously Provost of SMU, and Vice Provost and Vice President at the National University of Singapore (various portfolios).
Professor Kong was a Fullbright Visiting Scholar at the Department of Geography, University of California, Berkeley (1998) and a Commonwealth Visiting Fellow at University College London (1999-2000). She is widely known for her research on urban transformations, and social and cultural change in Asia. She has published a large body of work on religion, cultural policy and creative economy, urban heritage and conservation, national identity, smart cities and education. Her work has earned her international awards, including the Association of American Geographers Robert Stoddard Award for Distinguished Service (Geography of Religion and Belief Systems). In a 2020 Stanford University study, Professor Kong was ranked among the top one percent of scientists in the world in her discipline. She is on the editorial boards of more than 15 international journals in her field and is frequently featured as a keynote speaker at conferences.
Prof Kong was conferred the Public Service Star in 2020 and Public Administration Medal (Silver) in 2006. She was inducted into the Singapore Women's Hall of Fame in 2022, included in the Forbes Inaugural 50 over 50 (Asia 2022), and in Forbes Asia's Power Businesswomen list (2020).
---