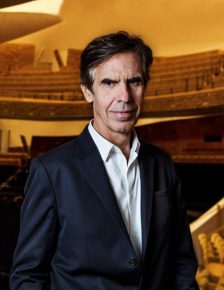 Laurent BAYLE
CEO

Cité de la musique-Philharmonie de Paris
Bio
Associate director of the Théâtre de l'Est lyonnais (1977-78), then general administrator of the Atelier Lyrique du Rhin (1979-82), an institution dedicated to musical theatre.
In 1982, he creates the Festival Musica in Strasbourg, an event dedicated to contemporary music, of which he ensures the general direction until the end of 1986 prior to assuming its presidency in 2017.
In 1987, he is appointed artistic director of Ircam (the Institute for Music/Acoustic Research and Coordination) then directed by Pierre Boulez, to whom he will succeed in January 1992.
In 2001, he becomes general manager of the Cité de la musique. The government also entrusts him with the implementation of the reopening of the Salle Pleyel.
In March 2006, the State and the City of Paris announce the project to create a large symphony hall. He is appointed president of the provisional association dedicated to prefigure this Philharmonie project.
In 2010, he implements a children orchestras project which is currently being deployed in disadvantaged neighborhoods throughout the national territory with the aim of reaching sixty orchestras by 2021.
Inaugurated in 2015, the Philharmonie de Paris marks the birth of a new public institution, "Cité de la musique - Philharmonie de Paris". In 2018, the Orchestre de Paris is integrated into this institution of which he is the CEO.
---