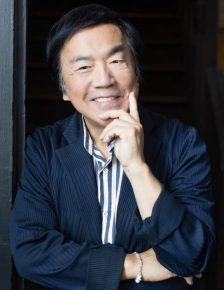 John KAO
Chairman

ThayerMahan & Institut pour l'innovation à grande échelle
Bio
Dubbed "Mr. Creativity" and a "Serial Innovator" by The Economist, John is a thought leader, practitioner and activist, who has played a leading role in the fields of innovation and business creativity for over 35 years. He is a trusted advisor to leaders of companies, startups and nations who are on the hot seat to deliver meaningful innovation agendas.
John's unique perspective draws from an eclectic body of experiences: former Harvard Business School professor, entrepreneur, musician, author, expert facilitator, Harvard-trained psychiatrist, and Tony-nominated producer of film and stage. Current highlights:
Cofounder and executive Chairman of ThayerMahan, Inc., a world leader in the integration of robotics, advanced sensors and data science for ocean monitoring.
Chairing "Reimagining American Innovation," an advocacy project involving government, thought leaders, and representatives from government, business and NGO's
Launching a technology platform to link the worlds of education and employment through the lens of the UN's Sustainable Development Goals (SDG's)
Regular contributor to Forbes.com
Yamaha Music Corporation's "innovation artist"
Co-host, INTERSECTIONS - a weekly livestream show that delves into the intersections among technology, innovation, culture and ideas
Former chair of the World Economic Forum's Global Innovation Council and current member of the WEF Center for the Fourth Industrial Revolution
Sought after speaker, facilitator and professional development lead. Developing a new approach to developing leadership proficiencies in times of discontinuity that he calls "The Six Intelligences."
John was production executive on sex, lies and videotape (Palme d'Or, Cannes) and executive producer of Mr. Baseball (Universal Studios). He is the Tony nominated producer of Golden Child, which marked the return of playwright David Henry Hwang to Broadway. He wrote the best-selling Jamming: The Art and Discipline of Business Creativity, about what leaders can learn from jazz, as well as Innovation Nation, which documents America's growing innovation challenges.
John's received BA and MD degrees from Yale and an MBA from Harvard Business School. His work has received coverage in such publications as The New York Times, The Economist, CNN, and The Colbert Report.
In the summer of 1969, he apprenticed to rock legend Frank Zappa. In his spare time, he plays jazz piano.
---