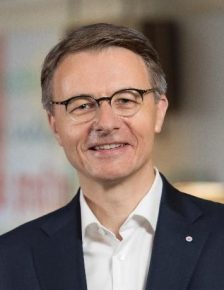 Bio
Dominique Schelcher has been CEO of Système U group, France's 4th largest distributor, since 2018. Deeply attached to an idea of commerce "with a human face" and the values of proximity historically carried by the group of 1600 stores located throughout France and Africa, he also wishes to develop its digital aspects.
Graduated from the Angers Business School (Essca), he began his career in marketing at the Ouest-France newspaper before moving back to Alsace.
In 2004, he returned to Fessenheim indeed, to head the family grocery store, which he still owns and manages. Leader of a group of studies and proposals, he quickly became administrator of the East Division of the Company and then CEO of the regional district Système U East in 2009. He thus led the harmonization of information systems at the national level, the first unification project of the group.
He aspires as CEO, "to bring people around, in order to make the necessary changes so that Système U remains perennial in its mode of operation."