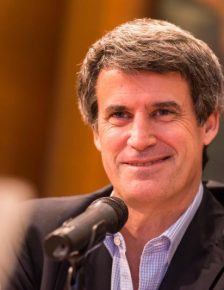 Alfonso PRAT GAY
Former Minister of Treasury and Public Finance

Argentine
Bio
Experience in public sector :
Minister of Tresury ans Public Finance (2015-2016)
Member of the House of Representatives (2009-2013)
President of "Coalicion Civica ARI" parliamentary bloc (2011-2013)
President of the financeCommittee of the House of Representatives (2009-2011)
President of the Central Bank of the Argentine Republic (2002-2004)
Experience in private sector :
Founder of Tilton Capital, an asset management company based in Buenos Aires (2005-2015).
Founder and Chairman of "Andares", an NGO fostering Microfinance Development (2005).
Head of JPMorgan Currency Research in London (1999-2001).
Strategist for JPMorgan's Emerging Markets Prop Trading team (1998-1999).
Member of JPMorgan Economic Research Team in New York and Buenos Aires (1994-1998).
Director of Macroeconomic Studies at Alpha S.A. in Buenos Aires (1989-1992).
Academic Activity
Ph.D. Candidate in Economics (University of Pennsylvania). Master of Arts in Economics (1994).
Degree in Economics from Universidad Católica Argentina (1988; Suma Cum Laude).
Visiting Professor of Finance, Universidad Nacional de Tucumán.
Assistant Professor of Finance at Torcuato Di Tella University (2005-2008).
Teaching Assistant (University of Pennsylvania, 1993).
Assistant Professor of Economics at Universidad Católica Argentina (1988-1992).
Board Memberships
THE INTERAMERICAN DIALOGUE
ITAÚ UNIBANCO, Latin American Strategic Advisory Board
HAKLUYT, a British strategic intelligence and advisory firm
CARI-Consejo Argentino de Relaciones Internacionales
CEMIC- Centro de Educación Médica e Investigaciones Clínicas
THE BRENTHURST FOUNDATION, fostering
Africa´s economic performance
Fundación Amalia Lacroze de Fortabat
Selected Awards
Finance Minister of the Year, 2016 (Euromoney Magazine).
Most active Representative in the Chamber of the House (2013).
Central Bank Governor of the Year, 2004 (Euromoney Magazine).
@alfonsopratgay